Our top 10 Eco Friendly and Sustainable Home Interior Design Shops based in Devon
One of the drawbacks of living so far from the epicentre of Interior Design, London Town, I had previously felt I was missing out on major Design events and product launches. Apart from the odd jolly up to the city to attend such exhibitions as 100% Design or Clerkenwell Design Week I had to rely heavily on online research. However, after 14 working as an Interior Designer in Devon, I have had the opportunity to get to know a range of local suppliers and makers and as of late we have made an effort focused on the more sustainable suppliers. The following is a mix of Devon companies we feel can provide not only a sustainable interior but an eclectic, exciting and stylish one at that.
Naturalmat
1. Naturalmat Supply handcrafted organic mattresses and beds made from 100% natural fibres, harvested according to Fair Trade principles. Alongside using the best of what nature has to offer inside your mattress – they ensure that the traditional processes of mattress making are adhered to and followed. At the end of their life, as all their materials are 100% biodegradable so will return to nature as nature intended.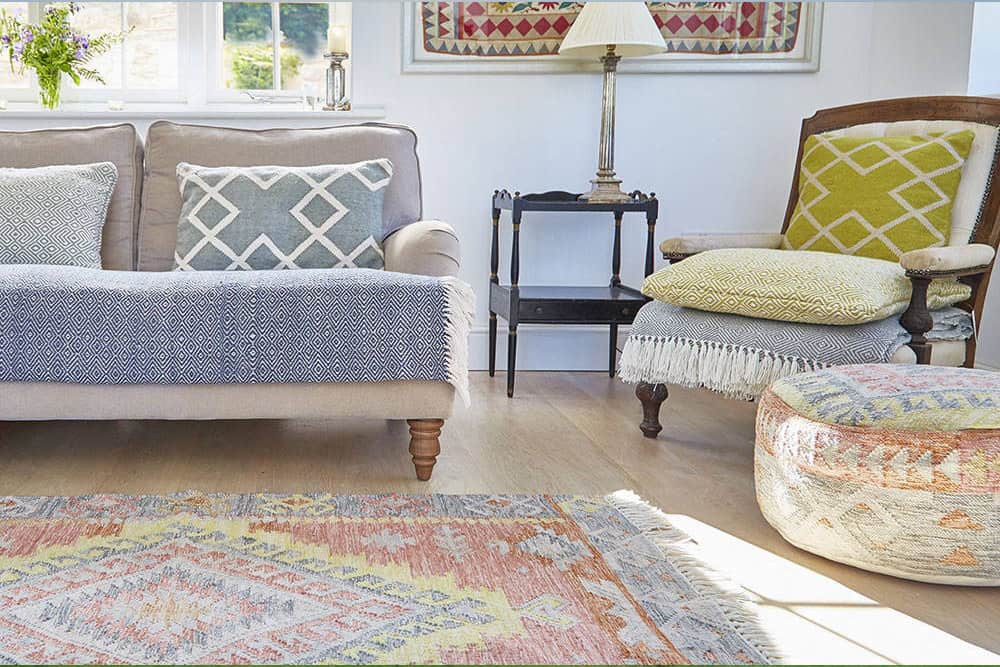 Weaver Green
2. Weaver Green turn old plastic bottles into gorgeous rugs and textiles. Weaver green has an extensive range of beautiful, soft, handwoven textiles that look and feel just like wool, cotton and linen, yet are easy to clean, hardwearing and can be used inside and outdoors. All of their products are made entirely from recycled plastic bottles meaning they don't just look and feel amazing, they're cleaning up the planet as well!
Lomas Furniture
3. Lomas Furniture pursue the fine craft of beautiful bespoke furniture that inspires a connection to the natural wooden material that is ever so carefully selected. The ethos of this company is to "Work with the tree, to tune in and allow it to guide us, to unlock the furniture or piece grown within the very tree itself. This way of working means we use parts of the tree often discarded by others which results in very little waste". The result is a truly bespoke furniture piece that will become a much-treasured family heirloom.
Pippi and Me Ceramics
4. Pippi and Me Ceramics have a beautiful range of hand made pottery, tableware, vases and lampshade inspired by a "Danish childhood, love of grey & desire to create beautiful things". Each individual handmade piece oozes with charm and is as beautiful to look at as it is to touch- The main reason I purchased a set of teacups to send home to my mother in Ireland, so every time she has a cup of tea she could feel me giving her a hug. Visit their studio/shop located in Webbers Yard, Dartington.
New Ember
5. New Ember have a unique sustainable wood homeware collection created by hand-burnt artwork inspired by a love of nature. It is almost hypnotic to watch the pyrography process as Lou carefully burns her nature-inspired artwork into a range of recycled wood or sustainable bamboo chopping boards, table sets, sharing platters and doorstops, among other items. Perfect for completing any sustainable interior scheme.
Craft Mongers
6. CraftMongers have a truly magical shop run by Wildlife Cameraman Toby Strong, Craft Mongers is everything the perfect high street retail store should be. Not only does it house a unique range of books, plants and local craftwork, it also has passion, a story to tell and an evolving and engaging ethos that has you return again and again as customers buy into their community spirit.  Along with supporting over 30 local makers and artists, a portion of Craftmongers profits goes to support a Madagascan school they were able to build last year called the 'Devon Friendship School '. It's good to know that what you buy is supporting artists, makers and children locally and around the world.
Greenfibre
7. Greenfibre offer beautiful and useful textile products that are as kind to the environment as they are to our health and well-being. Greenfibres' organic textiles undergo minimal treatment and processing while simultaneously looking out for the welfare of all animals and workers involved in the manufacturing process. With a range of clothing, skincare, kitchen and bathroom products to choose from, even walking into their Totnes based retail store evokes a sense of serenity and oneness with nature.
Shop Ashburton
8. Shop Ashburton – Arts& Antiques: Not only is Ashburton know as the Gateway to Dartmoor National Park, it is also recognised as a the home of the antique trail. Establishments such as Adrian Ager, Ashburn Gallery, Catherine waters Antiques, Franklin and Hare, and Shambles of Ashburton are but a few of the unique gems that are weaved throughout the streets of this historic market town. A wonderful day out and I challenge anyone to not end the day with a purchase they never knew they needed.
Out of the Valley
9.  Out of the Valley create a stunning range of prefabricated, movable wooden Nomad Cabins which are in tune with nature both inside and out. Working with the beauty and durability of wood and mixing modern construction methods with a deep respect for traditional craftsmanship, A Nomad Cabin is a self-contained home, office or retreat that is cocooned away from the world. One could only dream to self-isolate in any one of these.
Bogey Knights
10/ Bogey Knights is a Plymouth based family run business specialising in the retail of Government surplus and equipment, chandlery for ships and boats, office furniture, electronic items, catering equipment and the weird and wonderful. If you are looking to add a unique quirk or talking point within your home this is the place to go ….  Tornado Jet Fighter canopy anyone?
If you want to get the full lowdown on everything you need to know about sustainable interior design take a look at our definitive guide.